Charter yachts are often viewed as adult playgrounds, and that image is supported by brochures showing couples sipping champagne or dressed elegantly for dinner. But that's only one side of the charter coin.
The flip side is that a yacht charter is a wonderful family vacation, and one that is far more fun than a week at Disney World or on a cruise ship. We have gone to great lengths to develop reputations for being "pro-child" and will provide you with an experience your family will love.
A common starting point for a family yacht is the crew, and we like children (we had 4 of our own).
We have an wide array of board games, with games on the in-room tablets as well. We can also take the opposite approach, with the Captain "confiscating" the ubiquitous electronic games that children bring aboard under the ruse that they interfere with the navigational equipment just like on airliners (just don't tell the kids that it's all a ruse).
As a replacement, the kids are kept fully engaged with snorkeling, shelling, and riding water toys.
We also turn the yacht charter into an educational opportunity, sharing details about islands and sea life that become the key to evening trivia contests at dinnertime.
Parents should not be surprised if your youngsters discover a bottle on a beach, complete with an "ancient" treasure map. Miraculously, the map seems to match a nearby island, sending the excited kids on a five-steps-north-of-the-bent-palm-tree hunt that ends with a treasure chest filled with doubloons (of chocolate, or other kid-friendly treasure).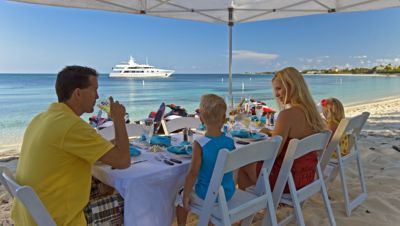 Family lunch on the beach
The crew on our kid-friendly yacht also go the extra mile when it comes to food. Even a special baby food or formula can be aboard.
We also understand that the parents may like to have some private time of their own, whether it's to walk on a beach by themselves, curl up with a book, or disappear behind, ahem, closed doors. That's when the captain takes the youngsters on an adventure to leave the adults alone. "We aren't babysitters", says the captain, "but we also understand that it's important to give the parents an afternoon off, so we plan kid-specific diversions".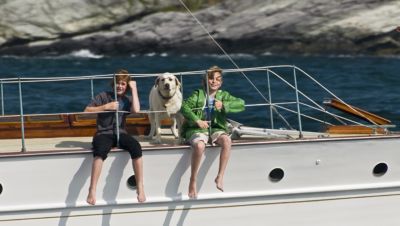 Chartering can provide the chance for kids to explore independently